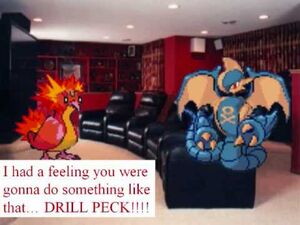 Flare Hawk is a character in the Aquablade Chronicles. He originally was the evil Lava Goose before his sprite changed in the Epilogue.
In the Epilogue of the Aquablade Chronicles, he becomes a good character by the use of the Sprite Machine. Before that, he is the evil Lava Goose who looked horrible in his own opinion.
Along with DVL (Demonic Venom Lord), he is second place in the reasoning for the subscriber loss on Aquablade's YouTube channel.
Lava Pit
Edit
Flare Hawk's basic attacking move. It is Fire-Typed and has no known bonus effects.
Apollo Flight
Edit
A stronger attacking move that also deals recoil damage to the user. If the target is too heavy for Flare Hawk to carry, the enemy will take the recoil, and Flare Hawk will take the brunt of the move instead.
Healing Heat
Edit
The same move he used as VP. Fully heals the target, but burns then if they aren't Fire-Typed. The Healing Heat burn is special in that it doesn't hurt Fire and Dragon types.
Turns the target into completelly useless ashes, but fully revives them when they faint.
Aquablade Chronicles Characters
Good Characters:

Aquablade11 (

Uber Form,

Dark),

Flare Hawk (

Lava Goose,

Volcano Phoenix),

Demonic Venom Lord,

Angragon,
Twoohfive205,
Neutral Characters:

Aquablade Warrior (

Skullsaber),

Dark Stalker,
Villains:

Flare Hawk (

Lava Goose,

Volcano Phoenix),

Darkceus,

Vaur (

Sala,

Salavaur)
Secondary Characters:
Aquablade Chronicles Characters
Good Characters:

Aquablade11 (

Uber Form,

Dark),

Flare Hawk (

Lava Goose,

Volcano Phoenix),

Demonic Venom Lord,

Angragon,
Twoohfive205,
Neutral Characters:

Aquablade Warrior (

Skullsaber),

Dark Stalker,
Villains and Traitors:

Flare Hawk (

Lava Goose,

Volcano Phoenix),

Darkceus,

Vaur (

Sala,

Salavaur)
Secondary Characters: